The Information Presenter gives organizations a new very effective way to share information with their audiences.
The Information Presenter is for ...
Hotels, Resorts, Cruises, Tour Operators, Travel Agencies, and Municipalities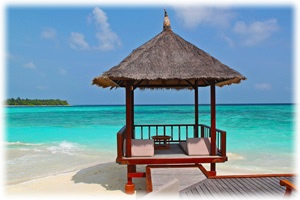 The Information Presenter can help hotels, resorts, cruises and other similar to:
Parks, Gardens, Nature Reserves, Zoos and Aquariums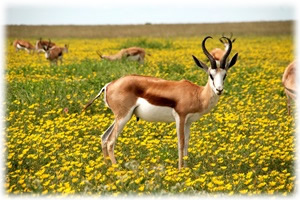 The Information Presenter can help all kinds of parks, to:
Museums, Art Galleries and Science Centers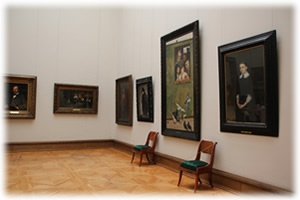 The Information Presenter can help museums, art galleries, science centers and other similar to:
Customers receive fully customized editions of the Information Presenter tailored to their needs.
Customization includes all aspects of the app including name, logo, artwork, links, features and licensing.
Information Presenter architecture, work and main features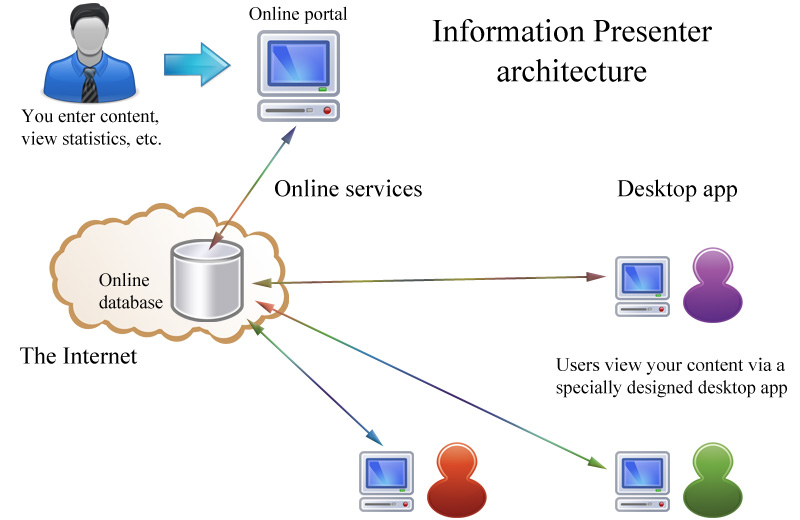 You enter your content via a fully featured online portal. The portal helps you manage your content, adverts, administrators, users, etc.
The content is stored in an online database.
Users view the content via the specially designed unique desktop mini-slideshow app. See details and user reviews below.
Using the Information Presenter, you can provide to your audience:

image slides.
video and audio slides.
document slides, including text, video, audio, links, etc.
three types of adverts, which are elegant and non-intrusive yet powerful
slides can have any number of user defined properties attached to them which provide additional information, such as history, material, price, etc.

About the desktop mini-slideshow app. The app does the following:

displays image, video, audio and document slides, which it loads from the online database and/or the local computer depending on the use case.
the app allows the user to search and view slides by assigned to them properties and content.
sends back to the online database and you the statistics about displayed and opened slides, clicked adverts/messages, etc.
the app is very unobtrusive yet allows the user be aware of your content at all times.
the app is licensed to your organization or the end user depending on the business use case.
The user perspective and the desktop mini-slideshow app.
The mini-slideshow app allows your audience to see your content with just a click.
The mini-slideshow app displays slides from the online database and/or the local computer depending on the included in it features, which is determined by the business use case. The user makes a selection from the available content, and sets the size, position, slide change period, transparency, and other app settings. A double click on the app opens the displayed slide. Once opened, the user can see photos in minute details, play video and audio, and read documents depending on the type of the slide. The size of the mini-slide is from 1 to 999 pixels and its position can be anywhere on the desktop.
The mini-slideshow with 35 pixel side length

The mini-slideshow with 120 pixel side length

The mini-slideshow with 220 pixel side length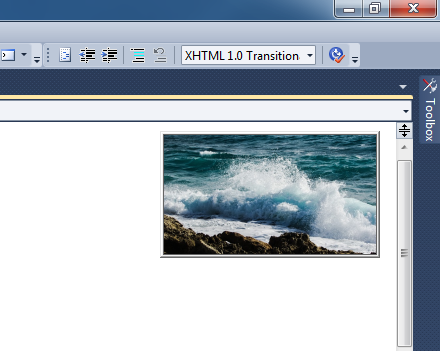 The mini-slideshow supports various view modes. It can be an ordinary window, which the user brings to the foreground when so desires. Or, it can be always visible on top of other windows, which the user can glance at and open with a click. Or, it can work as an icon in the system notification area, thus not obstructing any desktop workspace yet allowing the user to see the current slide and open it with a click.
The mini-slideshow in always on top mode near the system clock

The mini-slideshow slide embedded in the system notification area

The mini-slideshow has various modes of operation. These include manual, automatic periodic, or automatic scheduled change of slides. The app can automatically hide, or stay-in-place, or work in inverted-mode when it is always on top and the mouse hovers over it. This allows the user to view and interact with the window under the app without moving either of the windows.
The mini-slideshow remaining-in-place when under the cursor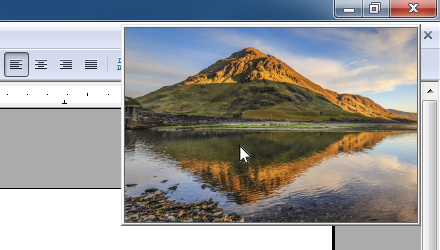 The mini-slideshow in process of disappearing under the cursor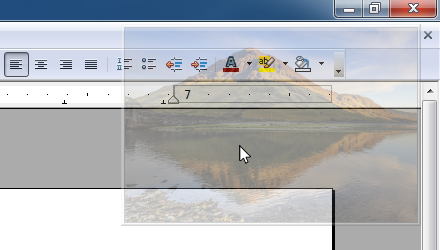 The mini-slideshow has many other features, giving it complete functionality and flexibility. The app has a unique multiscreen viewer. It enables the user to see pictures in the largest viewing area of their system. The viewer can perform an extreme zoom, allowing the user to see details in photos which usually remain unnoticed. The mini-slideshow also comes with a multi-screen screensaver, with several view modes, and a lot of other features.
The mini-slideshow never interrupts the user and their work. It encourages quick, momentary breaks that refresh the user and help them stay focused. The mini-slideshow allows the user to see images, watch videos, listen to audio, and read documents in a simple and entertaining way. It can help the user learn and maintain their knowledge, and assist them to reach their learning, self-improvement and self-help objectives, as well as provide entertainment.
Comparison between the Information Presenter and a website.
The Information Presenter complements your website exponentially increasing its effectiveness.
Key points
◈
The Information Presenter makes your information available to the user on a tray, effortless to reach, but it is in a discrete form.
◈
A website can make your information available in a continuous form, but only after a conscious effort and a dedicated search and navigation.
◈
The Information Presenter complements your website. Link your website from the app slides to allow its users to navigate to it.
◈
The Information Presenter allows you to provide unlimited data to your audience with no need for a web designer.
◈
The Information Presenter has much higher presentation capabilities than a website for images.
Details
Website
The Information Presenter
1. Induction
Requires a conscious thought and effort to navigate to your website.
The current slide is usually always visible and available to open with a click. А glance at the app, or a slide transition, may induce the user to open it.
2. View frequency
Typically, low-to-mid frequency of visiting by the same visitor. There usually are no external prompts to invite the user to visit the website again, even if there is plenty of content on it. Browser notifications are possible but very annoying and put most users off. Momentary breaks to visit a website are impossible, as navigating a website requires time.
Typically, mid-to-high frequency of viewing. Since slides are usually always visible, they stimulate the user to open and view them. The software is interactive, engaging and never disturbing the user.
3. Effort
Finding random/new information of interest on a website requires time and effort to search and navigate.
It is easy to click and open the current slide and view its content, as well as to load the next one, or navigate to the slide webpage.
4. Image viewing experience
Image presentation on websites can be from poor to good:
poor presentation - images have small fixed sizes in the webpages;
mediocre presentation - the image opens in a large window;
good presentation - some website include image zoom control. It improves the presentation quality. However, the zoom control is usually limited, and only within the browser window, losing at least 5% from the screen. On multi-screen systems, the browser cannot be easily sized-up to cover all monitors.
Provides excellent image viewing experience on all screens:
utilizes 100% of the screen area on single and multi-screen systems, giving the largest viewing space;
unrestricted software zoom to show the smallest details;
fast, just a click, slide open/close commands;
convenient keyboard hotkey and menu commands;
fit-to-image and fit-to-screen commands;
easy mouse and keyboard control of the opened slides.
5. Capacity
Impractical to display large volumes of image information. For example, to publish an archive of 1,000 images of historic architectural drawings on a website would require a massive amount of work for very few views.
Very efficient to display large amounts of information. To publish 1,000,000 images, which users can easily see, requires only to upload them. You can attach information and change slides from the web-interface later.
6. Variety
To find unknown facts/knowledge on a website, the visitor must explore the site systematically. Alternatively, you must update the website homepage continuously, or provide another mechanism.
The Information Presenter provides slides at a rate selected by the user from the edition's own slide library. The genesis of the app is to provide and allow viewing of varied information.
7. Learning
The user can learn by exploring the website systematically. However, learning requires conscious effort and persistence.
The user gains knowledge continuously, one item at a time, consciously and subconsciously. In addition, the user can get further information from the associated with the slide properties and webpage when available.
8. User groups and administration
Websites allow user group definition and administration. This allows a restricted view of information depending on groups' membership. However, it also implies extra cost when building the website.
The Information Presenter features the ability to create user groups and their administration. This allows a restricted view of information depending on the user groups' membership.
9. Adverts
Websites can include adverts, own or external. These are more often than not distractive, decreasing the quality of the website. Website adverts disrupt the flow of primary information of the webpage.
The Information Presenter online offers three types of ads or messages:
Menu adverts - these are very elegant and unobtrusive links to the desired webpage embedded as commands in the app menu.
Overlay adverts - these are text messages displayed under image slides until the latter are zoomed.
Slide adverts - these are fully flagged slides, inserted into the stream of normal data slides. As any slide they can be:

image slides;
video and audio slides;
document slides, including text, images, video, audio, links, etc.
The organization manages its adverts and messages from the app web-portal. The Information Presenter adverts and messages are unobtrusive and do not disrupt the flow of primary information.
10. Construction and maintenance
Very demanding - to create and maintain an engaging website with much visual and other information is difficult and expensive. It would require architectural design, development, and testing. Thus, construction and maintenance are complex, time-consuming and both technically and business value risky. Websites require and must have architectural completeness before being published.
Extremely easy - use the web-interface to create image, video, and document slides. Creating beautiful document slides is a breeze using the builder. Adding extra information to slides is as simple as editing the slide using the web-interface. Construction and maintenance of slides is quick, simple and risk free. The Information Presenter is already architecturally complete. You can add and edit slides at any time.
11. Labor
To create or update a website requires web design expertise and possibly a whole IT team. They must work with your experts in the field to create the design and implement the website.
To create beautiful slides or update them does not require any web-design or IT skills. Employees, students, and experts in your field volunteers can help you build and maintain your slide library.
12. Costs
Very expensive ~ 40-150 USD per hour, per IT specialist.
Your employees' time or practically free when students or volunteers help you build your slide library.
Academics
Information Presenter is very apt for museums and educational institutions. It is a product which can help them in one of their most important tasks, namely, to provide and disseminate knowledge for education and enjoyment, as well as help their finances, and without a doubt, in other ways.
Prof. Doctor of Arts Simeon Nedkov, Professor of Museology, Sofia University
Professionals
Information Presenter will be very useful for the National Polytechnic Museum, Sofia. It will give us many new opportunities to reach traditional and new audiences and will help us be even more useful to them. It is also very interesting for us to help increase and modernize the museum's souvenir line, as well as have more frequent and direct contact with our donors and volunteers.
Ekaterina Tsekova, PhD, Director National Polytechnic Museum, Sofia
End Users
This program is awesome. A nice way to view long forgotten photos.
Mati Robl
This is something I was looking for since eons ago, finding nothing alike until now! Fantastic! Thumbs up and congratulations to the developer.
Andreas
You've done an awesome job... I have found it most amazing how well this works when you load it with flash cards and keep it on top. Even if you don't pay attention to the flash cards, the information sticks in your head. Thank you for an awesome product.
Tinker
Photo Window is Exactly what I've been searching for. A mini slideshow app where I can look at recently taken pics while working on other projects. Thanks! Great job!!!
Bahala
I am writing to let you know how much I enjoy this software! I thank you for creating this lovely program! I also want to thank you for always providing needed support and updates. I am currently using this on two computers with different operating systems and it has always run so smoothly on both! Very happy customer!!!!
Tiger
Thanks for this nice app.
Romalliv
I like this. I save lots of great pics and then never find time to look at them again. I've taken many pictures that I never find time to enjoy. I try to rotate wallpapers but I seldom see my desktop. "Photo Window" is enabling me to enjoy my pictures. I can control how long each image is displayed; long enough for me to notice and think, "Oh yeah, I remember that one", but changes quickly enough to allow me to cycle through lots of my images.
Sheila
This software is very unusually and has potential to also be used as a 'tool' when choosing a folder of work related images that need to be referenced on-the-fly. The animated aspect-ratio during transitions is simply brilliant and is not intrusive yet gives just enough motion to remind you of a pleasant image that is being loaded into the re-sizable viewer.
arttronics
I really enjoy the program and have recommended it to another person. I wish you great success.
Hartline
This software provides me a relaxing diversion off to one side of the monitor, with a nice, smooth fading transition between pictures and the option to right-click for a quick full-screen view. I like the changes you made, especially the screensaver and inverse operation.
Tom Chilis
I use it every day and like it very much.
Maurice
I really like your program used as a reminder. Pics appear and vanish w/o any input. The fact that it disappears on its own without loading up the screen if I've been away for a while makes it a winner for me. It's a good product. Get it out there in a bigger way.
Stan L (author)
Let's Talk
Have a questions?
Let us explain.
Email us
Request demo
Let us show you the
details and explain it all.
Request demo
Try an application
Try Fine Art App, powered
by the Information Presenter
Press
Subscribe to our newsletter